Quotes
The prices shown on our website are firm and can be relied upon for quoting purposes.
For larger single orders greater than 40+ loggers (any mix of loggers), a discount can be obtained (subject to conditions). Please contact us.
If you require a quote to support an intended purchase this can be obtained through the shopping cart.
Choose the products that are of interest to you and add them to the shopping cart as if you were making a purchase.
When you have finished, open the shopping cart and click on the 'Print Cart' link.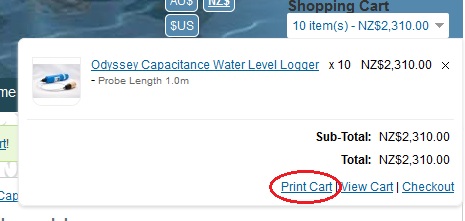 Shipping Costs:
Shipping costs exclude any duties/taxes payable by the customer at the port of entry to the destination country. Domestic deliveries will be with New Zealand Courier Post.
Note: Shipping costs are not shown on the quote as the shipping destination would be required first. Please enquire if shipping costs are required.